Package Deal: Includes face cradle mechanism, face cradle pad, prone armrest, carry bag and face recess plug.

The Elite range of portables is part of the new generation of quality and affordable portable massage equipment from Centurion, a business with over 30 years experience in manufacturing portable massage equipment in Australia.

Elite portables are one of the strongest and lightest tables available. Elite portables come standard with a face hole recess plug and the capacity to accept the addition of a more luxurious, optional face cradle. The table height is fully adjustable with an incredible 8 height increments.

Upholstered with Galaxy Plus a 5-year hydrolysis resistant PU fabric. Hydrolysis is the process by which PU fabrics' surface breaks down resulting in a flaking, brittle surface. Hydrolysis occurs with age and can be expedited with exposure to warm weather and humidity; or exposure to body heat and sweat. A low-cost polyurethane fabric can show signs of wear in only a couple of years. Our Galaxy Plus PU fabric uses high-grade polycarbonate resins to extend its life in use and storage.

The amazing thing is that the Elite ABR portable is a full-size professional table at 1840 mm long and 720 mm wide with a high-quality plywood base, and still weighs only 15.7 kg!

Upholstery covering
Galaxy Plus (blue-grey) a 5-year hydrolysis resistant PU fabric

Cushioning
Standard 64 mm, 2 layers of high density foam. CFC free, polyurethane foam

Face cradle mechanism size
19 mm diameter rods set 200 mm apart

Safe working load
Table: 204 kg
Face cradle accessory: 20 kg

Static load test
1250 kg

Height adjustment range
620 mm to 825 mm

Height adjustment increments
8 that are 34 mm apart.

Table weight
16.5 kg

Table length
1840 mm.

Shipping dimensions
960 mm x 770 mm x 230 mm

Shipping weight
17 kg

Origin
Made in the PRC

Warranty
Australia 5 years structural, 5 years hardware, 1 year accessories, and vinyl to arrive in perfect condition. Other countries upon request.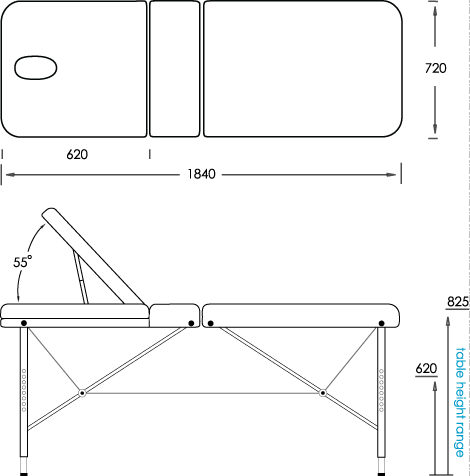 (For this item please quote stock ID 45088)

Related Subject Areas: