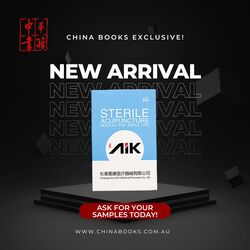 Health Practitioner Birth Workshop
This one-day workshop is for Chinese Medicine Practitioners who work with pre- and post-natal women. It focuses on how practitioners can help inform and support their patients. Topics covered include:
- The benefits of natural birth for mother and baby.
- How to help women be better informed about their choices.
- How to offer greater support to women postnatally.
Read more >>
What's New at China Books
NEW 2 DAY SEMINAR WITH PETER KINGTON

Peter Kington will be presenting a 2 day comprehensive seminar on 'The Treatment of Menstrual and Gynaecological Diseases with Acupuncture and Chinese Medicine' in Sydney and Melbourne! This is a whole new course, never taught in Australia before which will encompass Acupuncture as well as Chinese Herbal Medicine!!

Sydney: 16th - 17th September 2017
Melbourne: 25th - 26th November 2017


More details will be coming soon so follow our facebook page and subscribe to our mailing list.