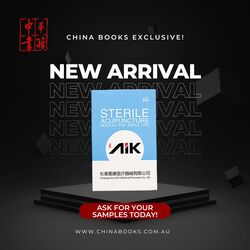 ConceptShen Herbal Range
We are now stocking a superb new range of Herbal Formulas for the management and enhancement of Fertility and reproductive disorders. The ConceptShen product line incorporates both Traditional Chinese Medicine and Nutritional Medicine providing high quality and unique products for the treatment of fertility, gynaecology, women's & men's health conditions.

The ConceptShen product manual (accessible online) contains comprehensive information about all of the formulas in the range. The products are strictly practitioner dispensing only, and are listed with the TGA
This Week
NEW PRODUCT RELEASED!! ONE TO HELP YOUR PATIENTS HEAL!!

Want to give your patients an effective tool that will support their healing process in the comfort of their own home?

NEW Ear Acupressure Seed Kits are designed to help practitioners help their patients. Each kit contains an ear chart showing auriculotherapy points corresponding to regions of the body associated with:
- Insomnia
- Weight Loss
- Menopause
- Headaches & Migraines
- Anxiety
- Memory
- Depression
- Stress, any many more

As well as 120 ear seeds and stainless steel tweezers.